Cochise Cowboy Poetry and Music Gathering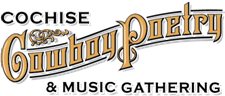 The Cochise Cowboy Poetry and Music Gathering found its beginning in the vision of one man, John Shaver. While serving with the Sierra Vista, AZ Chamber of Commerce and the Sierra Vista Arts and Humanities Committee, John joined others to look for an event that would foster an interest in Western Heritage as well as promote the community and increase tourism. In the spring of 1992, he brought a proposal to the City to sponsor a Cowboy Gathering. He gathered a team of dedicated volunteers and proceeded to produce the first Gathering, which was held at Apache Pointe Ranch in February 1993.
He brought Bud Strom on board and together, they made a superb team. They eventually moved the Gathering to the Buena Performing Arts Center after experimenting with Apache Pointe Ranch, the Ft. Huachuca Recreation Center, Cochise Community College and the University of Arizona - Sierra Vista. Together, John and Bud brought the magic of Cowboy Poetry and Music to our community and made it a fashionable commodity. It was an art form that captured the history of the west, the life, legend and lore of the cowboy, and the hurts, joys, and downright humorous stuff of cowboy life.
John and Bud's vision added school participation. The Gathering became the vehicle for introducing Western Heritage as part of the Arizona Curriculum into our Cochise County Schools and teaching the children not only the history but also the techniques for writing cowboy poetry. Children from grade three through high school submitted their poems each year and on behalf of the over 9,000 students who discovered something about themselves through poetry, on behalf of the parents, and on behalf of this most grateful community, we dedicate this history to Mr. John Shaver, Co-Chair Emeritus, Cochise Cowboy Poetry and Music Gathering.